Skip to Content
Landscaping Services in Dallas, TX
Outdoor Living Spaces & Landscape Design
Discover the union of elevated outdoor living spaces and luxurious landscape design in Highland Park, Farmers Marker, University Park, and Preston Park, TX. TurnKey Outdoor Solutions extends our expertise towards transforming outdoor living spaces with our landscaping services into customized environments that exude charm and functionality. We're your trusted landscape company, from garden landscaping ideas to outdoor entertainment areas and beyond.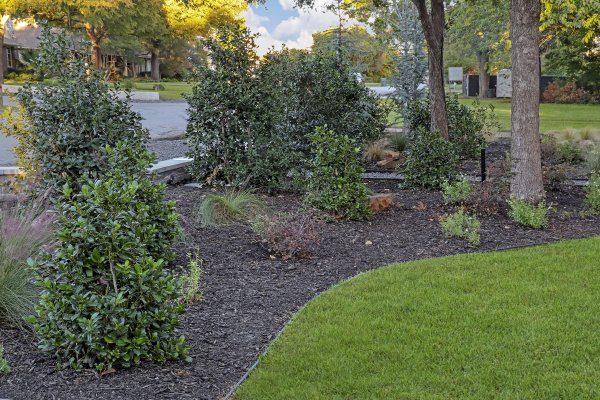 Commercial & Residential Landscaping Company
TurnKey Outdoor Solutions extends our expertise towards helping businesses and homeowners achieve landscaping excellence. Our landscaping company understands what is required to transform residential or commercial spaces into vibrant outdoor entertainment areas or serene gardens. With an array of design, installation, and maintenance solutions, we're equipped to bring your unique vision to life.
The Best Residential Landscape Services
The key to a stunning landscape lies in professional landscape services. Whether you're looking for exceptional landscape design, year-round landscape maintenance, or unique flair for your existing layout, we have you covered. Our landscaping services include:
Seasonal maintenance
Winterization
Irrigation and water management
Sod and turf installation
Synthetic turf installation
Water feature installation
Hardscape Services
If you have shaded areas or wish to implement a maintenance-free landscaping feature into your property layout, look no further than our hardscape contractors. From retaining wall construction to fight soil erosion to timeless patio and walkway design, we're here to bring classic flair and functionality to your space.
Custom Outdoor Living Spaces
Turn your property into a retreat-like oasis with our custom outdoor living spaces. From outdoor entertainment to relaxing patio and deck décor, we're equipped to bring your vision to life. Our outdoor living space services include:
Outdoor kitchens
Firepit design
Pergolas
Patio extensions
Outdoor entertainment areas
Decorative retaining walls
Outdoor lighting design
Fencing Solutions
Bring privacy and security to your space with our quality fencing services. With vinyl, iron, and wood fencing materials available, we are here to satisfy your fencing requirements. We do everything from privacy fences to classic wood fences to boost your property's curb appeal.
Tree Trimming & Removal Service
Whether you're in search of reliable tree trimming services or looking to rid your property of a dead tree with a full tree removal service, we're here to accommodate you. Our tree trimming and removal services are the key to lush, healthy trees and a safe, comfortable environment free of hazards and costly property damage.
Drainage Improvement Services
If your property is pitched incorrectly or you're facing challenges with your current drainage system, we're here to protect your landscape from damaging water runoff. We provide premium drainage system installation and drainage improvement services that enhance the drainage capabilities of your space for long-lasting beauty free of concern.
Benefits of Professional Landscape Services
Professional landscape services are beneficial to homes and businesses alike. The leading advantages of leaving your outdoor living spaces to our professionals include:
Property value enhancement
Boosted curb appeal
Year-round comfort and enjoyment
Environmental conservation
Customizable and versatile
Long-lasting and practical
Increased property safety
Choose Trusted Outdoor Living Contractors
At TurnKey Outdoor Solutions, we understand that your property is a reflection of your style and character. As such, we transform outdoor living spaces into custom-tailored designs that blend functionality, curb appeal, and comfort. With decades of experience, a customer-centric approach, and a commitment to innovation, we're your source for time-honored landscape services and quality craftsmanship.
Request Your Free Quote
Choose comprehensive landscape services and solutions to bring outdoor living spaces to life with TurnKey Outdoor Solutions. Elevate the curb appeal of your Highland Park, Farmers Market, University Park, or Preston Park home or business with our dedicated team of landscaping professionals. Contact us today to request your free landscaping service quote.