Skip to Content
Residential and Commercial Landscaping Services
TurnKey Outdoor Solutions LLC has the equipment, tools, and knowledge to handle all of your landscaping needs. Property owners throughout the Dallas-Fort Worth and Austin area count on our residential and commercial landscaping team because of our reputation as an honest local business. Our experience and knowledge ensure you'll be completely satisfied with the results, from year-round maintenance to custom design and installation of specialty landscape projects. Contact us for a free estimate today.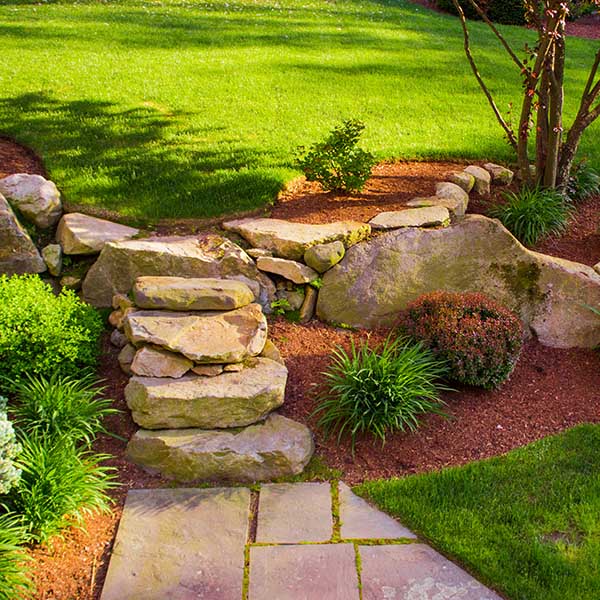 Landscape Services You Can Count On
Well-maintained landscaping around your home or business is important for multiple reasons. For one, the exterior of the property is the first thing that visitors see and will play a role in their overall opinion of the home or business. Additionally, nice landscaping increases property value and can help protect your home from damage caused by water runoff or neglected trees. No matter what you need, we have a service for you.
Landscape Design and Installation
We use 3D design software to create your ideal landscape and give you the opportunity to see the finished product before work even starts, ensuring your approval.
Irrigation
You can't always rely on Mother Nature to provide enough water for grass, plants, and flowers during the summer. With an irrigation system, you control when and how much water your property gets.
Synthetic Turf
This is an environmentally and pet-friendly option for a low-maintenance landscape. It's not just for athletic fields. Many homeowners are switching to turf because of its maintenance-free benefits.
Grass and Sod
Sometimes, the key to healthy grass is to start fresh. We lay grass and sod in newly landscaped areas or where the grass is dead and beyond repair.
Drainage Installation and Improvements
Drainage issues on a property can result in standing water and damage to buildings. We can improve slopes or install drains to lead water safely away.
Landscape Maintenance
We offer year-round maintenance programs for homeowners and commercial businesses. Property owners never have to worry about mowing, cleanups, weeding, and other arduous tasks.
Landscape Winterization
If you have an irrigation system, it should be winterized to prevent damage from freezing. Additionally, certain species of plants and shrubs should be prepped and protected for winter as well.
Water Features and Fountains
From elaborate bubbling brooks and fish ponds to ornamental fountains, our team can install water features on your property, no matter how large or small.
Learn More About Our Landscape Services
Whether you're looking to make a landscape improvement on your property with a design project or you want to remove the burden of keeping up with yardwork by yourself, our team at TurnKey Outdoor Solutions LLC can help you with as little or as much as you need. Contact us to learn more about year-round maintenance, seasonal cleanups, or how we can create a backyard entertainment area for you to enjoy. Give us a call to schedule a free estimate today!