Skip to Content
Outdoor Living and Entertainment Areas
We all enjoy time outdoors when the weather is perfect. Whether it's savoring morning coffee, entertaining friends for lunch, or gazing upwards at the stars overhead at night, some of life's most peaceful and happiest moments take place in the backyard. At TurnKey Outdoor Solutions LLC, we create outdoor living and entertainment spaces to help you get the most out of your property. Move the party outside and contact us for a free estimate to add to your outdoor living space.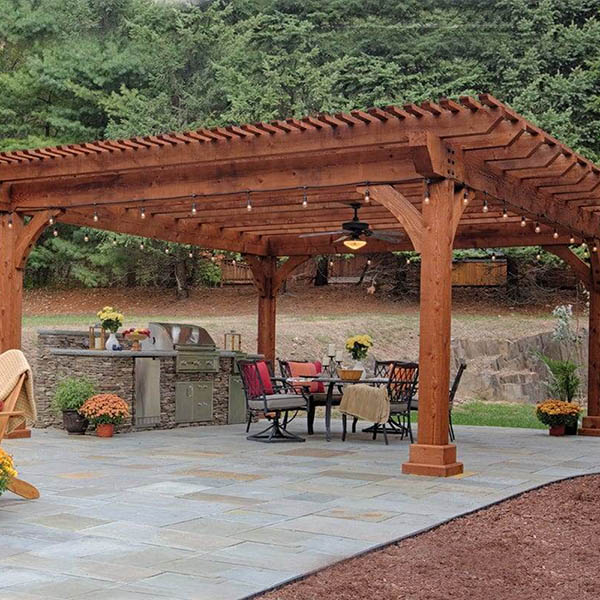 Creating Your Peaceful Place Outside
Are you looking to add on to your existing patio or have a blank patch of grass and need to start from scratch? No matter how big or small or how basic or detailed you're vision is, our backyard-living creations will add immediate value to your property and excitement to your mood. Possibilities are practically limitless, but some of the most common requests we're hired to construct include
Outdoor Kitchens
Outdoor kitchens are one of the best ways to entertain in your yard. We can build as elaborate a setup as your budget allows with built-in grills, cabinets, sinks, countertops, and more. You'll never have to go inside for anything!
Pizza Ovens
Outdoor pizza ovens are a fantastic way to get that brick-oven flavor right in your backyard.
Firepits
We can customize a firepit design for you, complete with seating, such as circular pits, square structures, wall units, and more.
Pergolas
These additions bring personality to plain spaces and offer shade and an easy place to hang outdoor lighting.
Outdoor Lighting Installation
Landscape lighting can create the perfect atmosphere while guiding family and guests safely to and from your outdoor area. Our professional work will conceal cords and reduce the risk of tripping and falling with a clean look.
Putting Greens
Synthetic turf is becoming a popular addition to many homeowners' landscapes, and a putting green is the ultimate way to improve your golf game. These are low-maintenance, long-lasting, and are pet-friendly too.
We Bring the Excitement to Outdoor Living
With our outdoor living landscape construction, all you have to do is invite your friends, put the beverages on ice, and light the fire. TurnKey Outdoor Solutions LLC specializes in creating custom relaxation and entertainment areas on the property of homes and businesses for your enjoyment. Whether you want to build a small place for a couple of friends or an outdoor bistro to extend your restaurant dining area, we have a solution for you. Contact us for a free estimate today.