Skip to Content
Professional Hardscape Design and Construction
Get more out of your property with high-quality hardscape services by TurnKey Outdoor Solutions LLC. When we think of hardscape, obvious forms, such as walkways, patios, and driveways, come to mind. But our stone and masonry services go far beyond that. Let's face it. Some parts of your property may not be ideal for traditional grass or plantings due to poor drainage, too much shade, or uneven ground. We have a solution for those types of problems. Looking to add a beautiful hardscape to your yard or include an inviting walkway to welcome guests? Contact us for a free estimate.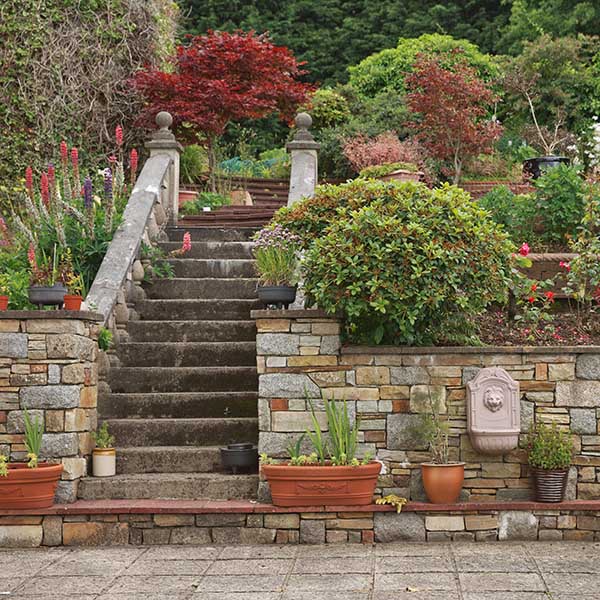 Quality Materials and Exceptional Work
No matter what form of hardscaping your property calls for, choosing the right materials and working with a company like ours that is knowledgeable about proper installation is critical to enjoying a final product that will last. We work with a variety of brick, stone, pavers, concrete, rocks, and other materials to provide a finish that matches your style. However, that's only half of the job. We ensure the proper amount of underlayment and materials are used to provide a solid base that won't shift or leave you with an uneven result. We are committed to your complete satisfaction.
Driveways
Brick and stone pavers provide an incredible look of class to driveways and are as durable as traditional asphalt. Have an old, cracked, and discolored concrete driveway creating an eyesore? Ask us about decorative concrete options.
Retaining Walls
A brick or concrete retaining wall is a valuable tool to hold back soil on sloped property. Many homeowners want to enjoy outdoor space, but they don't have flat ground to work with because of an incline. Our landscaping services can hold back soil, prevent erosion, and contain water to keep it out of your entertainment area.
Stonemasonry
Our team can create attractive and decorative stonemasonry pieces to accent areas of your home. We can add detail to chimneys, stone staircases, retaining walls, and more. Stone's unique colors and various shapes and sizes offer a world of opportunity for homeowners.
Patios and Walkways
Patios increase your living and entertainment space during nice weather. With a clear and stable area for guests and family to mingle, you don't have to worry about mud, dirt, or people tripping over uneven turf. Walkways provide safe entry and exit for friends and family. Whether you need to replace a crumbling, dangerous situation or want to install a new pathway, we are here to answer the call.
Call for Your Free Hardscaping Estimate
Hardscape solutions are a clean and maintenance-free landscape option many homeowners are increasingly interested in. Our team at TurnKey Outdoor Solutions LLC will help design a plan that complements your property, and we'll complete it with professional installation services. When you want a job done reliably and installed correctly, we are here for you. Contact us to schedule a free estimate.