Skip to Content
Hardscaping Servicing in Dallas, TX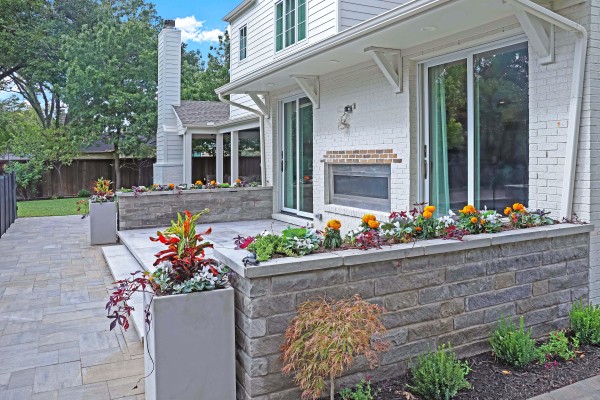 Premium Hardscape Design & Construction
If you're a homeowner in Highland Park, Farmers Market, University Park, or Preston Park looking to take your curb appeal to the next level, you've come to the right place for expert hardscape services. TurnKey Outdoor Solutions provides high-quality hardscape design and construction. Discover how we redefine the art of landscaping with environments crafted to withstand the test of time.
How Do Hardscape Services Work?
Hardscaping involves the design, installation, and maintenance of non-living landscape elements, including patios, fire pits, and more. During hardscape design, we collaborate with you to understand your needs, preferences, and property layout, followed by planning and skilled installation, where we leverage technical skill and creativity to ensure seamless results.
Solving Landscape Challenges with Ease
Some parts of your property may not be ideal for traditional grass or plantings due to poor drainage, excessive shade, or uneven ground. Fortunately, we have the solution. Optimize the beauty and functionality of your outdoor living spaces without compromising on practicality with our premium hardscape design and construction.
Get More Out of Your Property
Get more out of your property with TurnKey Outdoor Solutions and our hardscape services. Our hardscape construction seamlessly blends aesthetics with functionality to elevate your outdoor space. We go beyond traditional hardscape design, offering not only walkway, driveway, and patio construction, but retaining wall solutions and stone and masonry services that boast unrivaled elegance.
Quality Hardscape Materials
Working with our experts is the key to the highest quality hardscape materials, no matter what form of hardscaping your property calls for. We work with a variety of brick, stone, concrete, rocks, and more to provide an unmatched finish. In addition, we ensure the proper amount of underlayment for solid foundations that boast even, long-lasting results.
Driveway Options
Brick and stone pavers provide an incredible class to driveways without compromising durability. If your driveway is outdated, cracked, or discolored, it's time to eliminate the eyesore with TurnKey Outdoor Solutions. Allow us to use our impeccable hardscape design knowledge to breathe new life into your driveway.
Retaining Walls
Brick or concrete retaining walls are a valuable tool used for sloped properties. If you're a homeowner with flat grounds looking to maximize your outdoor space, we can help. Our sloped property solutions and retaining walls hold back soil, prevent erosion, and contain water for a stunning and practical entertainment area.
Stonemasonry Detail
Discover the beauty and timeless elegance of stone and masonry services. Allow us to design decorative stonemasonry details for your home, including chimney additions, stone staircases, retaining walls, and beyond. Choose from unique colors and creative shapes and turn your space into a reflection of your true style.
Patio Construction
Extend your living space and create an outdoor entertainment area or a relaxing gathering nook with our patio construction. Eliminate the hassle of mud, dirt, and uneven turf with our hardscape design services that provide a clear and stable area for guests and loved ones.
Walkway Installation
Whether you're looking to split your landscape, remedy crumbling or hazardous outdated pathways, or reconceptualize your outdoor living spaces, look no further than TurnKey Outdoor Solutions. Our customizable walkway installation is the perfect addition to any home. Choose from durable brick and stone pavers to create a hardscape design that exudes functionality and charm.
How to Choose the Right Hardscape Services
Choosing the right hardscape service is an impactful decision that affects the quality and longevity of your results. It's imperative to work with a company with experience and a track record of success, such as TurnKey Outdoor Solutions. Our local expertise and quality hardscape materials are the key to enhancing your property's charm.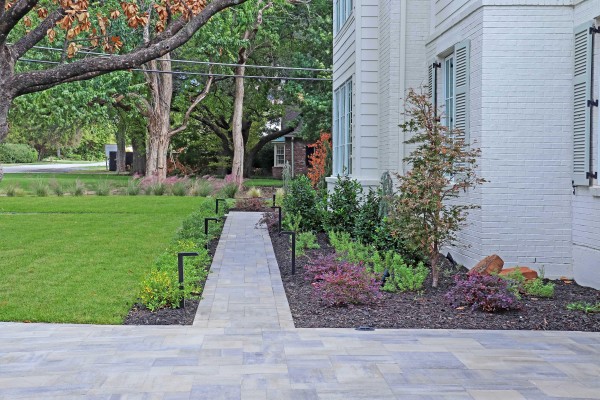 The Advantages of Our Hardscape Services
Experience easy maintenance and stunning visuals when choosing hardscape design and construction for your Highland Park, TX, home. The advantages of hardscape services include:
Increased property value
Low maintenance and long-lasting
Versatile with endless design possibilities
Erosion control and water containment
Entirely customizable
Choose Excellence with TurnKey Outdoor Solutions
Don't settle when it comes to your hardscaping solutions. Choose excellence with TurnKey Outdoor Solutions. Our experienced team gives you access to a personalized approach to hardscape design, quality hardscape materials, and quality craftsmanship that boasts longevity, functionality, and beauty. From simple additions to full overhauls, count on us for comprehensive service.
Call Us for Your Free Hardscape Service Estimate
Hardscape services are a clean, maintenance-free landscape option that brings your property to new heights. Our team at TurnKey Outdoor Solutions provides time-honored hardscape design complete with professional installation to ensure beautiful results that complement your property. Choose reliability and precision by contacting us today for your free hardscaping estimate.